This project is no longer in active development.
Incorporating Film and Image for On-Line Discussion and Multimedia Essays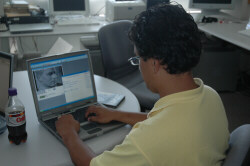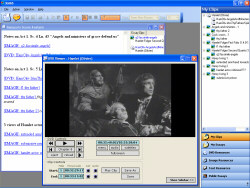 XMAS – the iCampus Cross Media Annotation System provides tools to enhance the use of video and image collections in humanities courses and in any subject in which precise reference to visual materials is needed. Close reading, analysis and sharing of interpretation of textual materials has long been a central part of humanities teaching and learning. XMAS is based on the idea that humanities education is increasingly multimedia in character. We now need to reference film segments and images as rapidly and precisely as we can turn the pages of a printed book to find a marked passage to discuss or incorporate into an essay. And we need to share our interpretations in on-line discussions and as image-rich essays that can be read and responded to over the Internet.
Developed in conjunction with MIT's Shakespeare Electronic Archive project, XMAS has been used in MIT Shakespeare and Shakespeare on Film classes, with collaborators at Vanderbilt and other universities, and in distance seminars organized by the Shakespeare Association of America.
XMAS can be used in conjunction with image and text collections, and is currently optimized for use with commercially available DVDs as video source. XMAS allows users to rapidly define segments of film which can be replayed by clicking on automatically created links that can be saved in a list or dragged and dropped into discussion threads or online essays.
Exploring and Using xMAS
Technical Specifications of the xMAS server and client software
Detailed Specifications

XMAS Server Specifications:
Windows XP Professional w/SP2
Microsoft SQL Server 2000
IIS 5.1
Client Software:
Window XP Home or Professional
DirectX9
.NET Framework 1.1
XMAS application (C# based)
Client Hardware:
300+ MHz Processor speed
1024 x 768 (XGA) display
512 MB RAM
DVD-ROM drive
DSL, cable modem, or higher (384 Kbps)